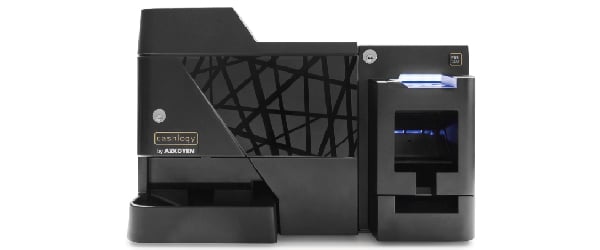 Azkoyen Group, a Spanish multinational company based in Navarra specialising in the design and manufacture of advanced technology solutions, will begin to sell the POS 1500x model in the French market, offering the most standard features of the Cashlogy series. It will be launched in Paris between February 3rd and 6th on the occasion of the Europain 2018, the exhibition centre in Europe for businessmen from the bakery and confectionery industry.
Despite the introduction of new alternative means of payment, cash still is the preferred method. Therefore, Cashlogy automates all the cash management processes and simplifies its management, and constitutes the perfect tool for confectioneries and bakeries, among other businesses. Besides, it allows the clients to introduce cash in Cashlogy so the employee is not in contact with money and food at the same time, and thus, it increases hygiene, which is so important in these types of businesses.
The POS 1500x Cashlogy model is one of the market's most advanced devices thanks to the use of more innovative technologies. Besides its reliability on detecting currencycounterfeiting , this series stands out for its swiftness and easiness of use and maintenance.
Cashlogy is a brand from Azkoyen Payment Technologies, leader in the European payment sector.
As Roberto Díaz, sales manager of the Payment Technologies division, explained: "Cashlogy reduces the loss of money, because it has two levels of access, one for revenue, to which only the responsible has access, and another one, to which employees can carry out maintenance tasks".
Europain 2018 will take place in Paris from February 3 to 6. It is a businessmen-oriented international exhibition for the bakery and confectionery industries, celebrated in the French capital every two years. A meeting to which more than 63 thousand professionals of the sector attended last year.