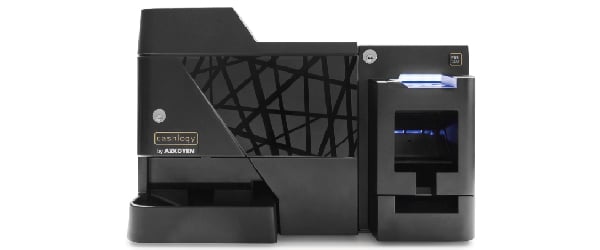 – Cashlogy automates all cash processes at the point of sale and simplifies their management.
– Cashlogy incorporates the most innovative technologies and positions the new POS 1500 series as one of the most reliable devices in the market.
– EuroShop is held once every three years in Germany, showcasing all the developments in the retail sector around the world.
The Azkoyen Group, a Spanish multinational specialised in the design, manufacture and commercialisation of advanced technology solutions, will take part in EuroShop 2017, the leading retail trade fair worldwide, which will be held in Düsseldorf on 5-9 March. At EuroShop 2017, Azkoyen will launch a new generation of products which, thanks to continuous improvement and the incorporation of the most innovative technologies, will position the Cashlogy POS 1500 series as one of the most reliable devices in the market.
In addition, with the new Cashlogy POS 1500 series, connectivity has been extended to all of the most commonly used operating systems in shops around the world, including Android, iOS, Linux and Windows. Accessibility has also been expanded with the incorporation of a new folding banknote module.
Cashlogy is a device that automates all cash processes, simplifying their management. It minimises the time required for opening and closing the cash register and reduces the possible losses associated with misplaced money and fraud involving counterfeit coins and bills. It is also perfect for places where hygiene is a very important factor, since employees do not need to handle the merchandise and cash at the same time.
EuroShop will be held in Düsseldorf on 5-9 March. It is the largest worldwide trade fair dedicated to retail sales. Held every 3 years, its aim is to offer the largest range of services and investment goods for the retail sector to its partners, with an eye on the future, marketing and technology, and innovative products for retail establishments around the globe.  In the last edition, EuroShop 2014, the trade fair received 109,496 visiting professionals from 100 different countries and hosted 2,229 exhibitors. For EuroShop 2017, the number of pavilions has been expanded from 16 to 18 and more than 2,400 exhibitors are expected from around the world.