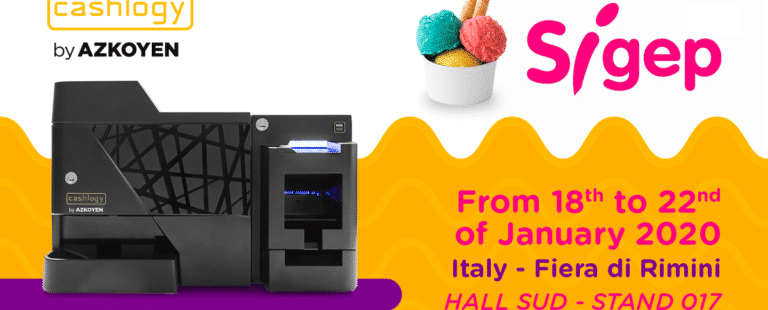 Categoría: Uncategorized
The 41st edition of Sigep, the International Exhibition of Traditional Ice Cream, Pastry and Bakery Products and Coffee, to be held from 18 to 22 January in Italy, is the most important event for the industry.
The exhibition, which will take place from 18 to 22 January 2020 at the Rimini exhibition centre in Italy, is the most important professional event in the world of artisan ice cream and pastry making. We will be making its debut as a sponsor of the Ice Cream World Cup which is held every two years at this event and will be presenting its Cashlogy POS 1500 machine.
The Cashlogy POS 1500 series, Azkoyen's automatic cash management machines, are a success:  they provide peace of mind to the owners of the businesses where they are installed by reducing unknown losses, facilitating efficient change giving and minimising fraud.  They also help them save time in their workday, because the opening and closing processes, as well as the cash balancing, are done automatically and are therefore faster and more accurate. This flexibility allows workers to attend to other tasks with increased added value for the business.
The POS 1500 series is, therefore, the perfect solution for restaurants, bars, patisseries, bakeries, butcher shops, fish mongers, petrol stations and all kinds of businesses that require a cash management device.
Sigep is the meeting-point for all those involved in the ice cream, patisserie, chocolate, bakery and coffee industries; from manufacturers to distribution chains, entrepreneurs, professional associations and the media. A perfect scenario for presenting new concepts, creating global contacts and promoting the growth of companies and professionals.
Visitors will be able to move around a 129,000 m2 display area with around 1,200 exhibitors offering the best international products via theme-based circuits focused on 5 main sectors, which are all interconnected to offer a unique vision of excellence in the ice-cream and patisserie industry.